2022 Week 3 (Ohio & Pennsylvania)
This was another week close to home. Or, so it would seem. Over 700 miles driving around Ohio and Pennsylvania for four games. All at new stadiums. But, only one new team. The weeekend started with a decision on whether to do a New York game in Frewsburg or an Ohio game. Neither game was going to be close. Though, for the Ohio game I wouldn't need to write anything. As I'd have a writer there. I'd also see River for the first time. So, I decided to make the drive south along the river. My Friday game was in limbo. I had planned for a single game at Blackhawk. Until I confirmed there was a doubleheader at Cupples Stadium. So, I was going to do the first game there between Carrick and Uniontown, and then head to Plum for their game against Shaler. That changed completely when I found out that Warren was hosting their home game at Youngsville.
My Week 3 Preliminary Plans:

Thursday 9/8
River (OH) v. Magnolia (WV) 7pm

Friday 9/9
Warren v. Girard 7pm (@ Youngsville)

Saturday 9/10
Lake Catholic (OH) v. Erie 1pm
Mercyhurst Prep v. Seneca 7pm@PaFootballNews
#BeyondTheKeystone @pa_fb_history pic.twitter.com/YeCk1rfzS3

— Sykotyk (@Sykotyk) September 8, 2022
On Thursday, my daughter and I left Boardman just before 3pm, and got into River just after 6pm. A stop at Sheetz and another bathroom stop in Martins Ferry added to the time. The school is situated just off Route 7 on the hillside to the west of the highway. The hills of West Virginia visible behind the home press box. The hill to the west provides excellent early shade.
Today I'm in Hannibal, Ohio for a rare Thursday cross river rivalry between the River Pilots and the Magnolia Blue Eagles. Kickoff set for 7pm from Martin Flannery Field. #25 @PaFootballNews #BeyondTheKeystone pic.twitter.com/pGC3hD7wjW

— Sykotyk (@Sykotyk) September 8, 2022
#25 – Hannibal River v. Magnolia
River v. Magnolia at Martin Flannery Field in Hannibal, Ohio. #25 @PaFootballNews #BeyondTheKeystone pic.twitter.com/t29YIu4eAH

— Sykotyk (@Sykotyk) September 8, 2022
River has a beautiful stadium, as Martin Flannery Field has been completely upgraded. The field is named after longtime coach Martin Flannery, whose grave is situated in the cemetery overlooking the field. His black headstone prominently festuned with flowers. His son, Mike, is the head coach and in his 21st season at the helm.
As for the game? It wasn't much of one. Magnolia was dominated in almost every aspect, and River jumped out to a huge lead. With my daughter, and the small sidelines, I stayed in the stands on the Magnolia side in the top row away from the bulk of their fans near the band. My daughter played with some kids in the grass to the north of the Magnolia stand.
River jumped out to a 34-0 lead after the first quarter. And didn't look back. Though they did take their foot off the accelerator. At halftime, the second half was truncated to two 8-minute quarters with the running clock. However, Magnolia did score one touchdown on what can best be described as enabled. The touchdown coming on the final play of the game. River would win the cross-river showdown, 49-6.
River 49, Magnolia 6 – Final #25 @PaFootballNews #BeyondTheKeystone @JoeEitel pic.twitter.com/Uw6hFdnU3E

— Sykotyk (@Sykotyk) September 9, 2022
It was a long drive home. On Friday, it was a short drive to Hermitage to visit my parents. Have lunch, and then make a bee line for Youngsville. Why Youngsville?
Well, I may have never lived in Youngsville. But I've been on the Youngsville field probably more than any other field. As a kid, we'd visit my great aunt there. She was a former teacher and lived across the street from the school. And in the summer (I was never there during school), I spent a lot of time running around and across that field, and riding my bike along the sidewalks and asphalt around the school.
But I had never attended a game there. It was one of those things I put off. For years. I figured I'd get to a game there, at some point. And when I made a concerted effort to attend games at new places, this was always low on my list. After all, I had been there. Innumerous times. Just never for a game. Until 2013. I had planned to attend the Sheffield at Youngsville game to close out the season. However, Sheffield pulled off the improbable, and won the AML North. Which setup a last week of the season AML Championship against Kane. Youngsville, though, opted not to find a replacement. And then in 2014 and 2015, my second wife and I mostly stuck with Greenville games with a few exceptions. 2016 saw the birth of my daughter. And the cancellation of Youngsville's season after running short on players and abruptly cancelling against Farrell. But, not after still having matchup with Erie East slated to be played. The 2017 season never happened. And they haven't played since.
An emergency co-op was formed with much larger Warren (though Eisenhower or Sheffield would've made more sense competitively). And no more games were slated for Youngsville's Mike Shine Field.
Until Warren remodeled their War Memorial Stadium, and though they played last week, needed a weekend away from home to finish completing their new track. And that meant they needed a new home for a weekend. What better than the little brother of your co-op to host the game?
And that's how I wound up on the sideline of a varsity football game in Youngsville. Smiling ear to ear.
After leaving Hermitage, it was US62 east with the short cutacross to Franklin. Then north to Titusville and followed PA27 east to US6 in Pittsfield. And then on to Youngsville. I've been here many times since childhood. Always finding myself stopping in town to reminisce and retrace my varied steps. And see the school and the field and wonder what might have been.
I'm in Youngsville for a Football Game! Tonight the Warren Dragons host the Girard Yellowjackets at the home of their co-op brethren the Youngsville Eagles. Kickoff set for 7pm from Mike Shine Field. #26 @PaFootballNews @WarrenFootball @TheBeeHiveGHS @hive_is_alive pic.twitter.com/DkDyBP75wD

— Sykotyk (@Sykotyk) September 9, 2022
#26 – Warren v. Girard (@ Youngsville)
Warren v. Girard at Mike Shine Field in Youngsville, PA. #26 @PaFootballNews @WarrenFootball @TheBeeHiveGHS @hive_is_alive @BrianHagberg pic.twitter.com/LvJt58KL9Q

— Sykotyk (@Sykotyk) September 9, 2022
But tonight, of all nights, I didn't have to wonder. I arrived over 90 minutes early. Got situated with my gear, and headed to the small ticket booth. After speaking to the boosters, I bought a program and returned to the truck. Dropped it off after getting photos of the teams rosters. I also bought the 50/50 raffle as part of a combo deal for $5.
Then, it was to meander around the cinder track that barely resembled a track. The cheerleaders practiced behind the home stand. The fans were milling about the endzone concession stand or claiming sections of bleacher for later. The sun was already finding its way behind trees. The hills to the north and south bookeneded one of the best views I was certain I would never see.
I was hoping there was some way the Dragons could wear read. Or a helmet sticker. But on little notice, the only thing that made Youngsville eminant, other than the insignias emblazoned on the outbuildings around the field, the scoreboard, or the press box, was a single red banner carried in by the Dragons at their introduction.
Their opponent were Girard, who I saw the previous Thursday at North East. The first, and so far only, team I've seen twice this season. They were much more dressed for the occasion, decked out in red and white with just a hint of yellow of their nicknamesake.
The game started with trading scores, and then Warren exploded for 36 points in the second quarter. Taking a 43-13 lead into the intermission. I sat on the Girard sideline and did photos, but the internet was so aggravatingly slow that my tweets weren't going through. Instead pausing and failing. I decided to keep them pending and send them one at a time as they found data. It was clear the lopsided game led to more fans using their phones and killing whatever available service there was on the edge of town.
Warren added one final score, but never did get the running clock going. Winning a home-away-from-home game, 50-28.
Warren 50, Girard 28 – Final #26 @PaFootballNews @WarrenFootball @TheBeeHiveGHS @hive_is_alive @BrianHagberg pic.twitter.com/qAMJKFEVuZ

— Sykotyk (@Sykotyk) September 10, 2022
I got back to my truck and headed home. A long two-plus hour drive back down through to Franklin, where I deviated and followed PA8 to I-80 and into Ohio. With my long drives, I didn't have time for photos from Thursday or Friday. So, got a quick nap, and was up early to get ready for Saturday. That, again, was a bit of round about trip. The early game was moved up from 1pm to noon, so luckily I was there early enough regardless. But that lost me an hour in the morning.
I'm in Mentor, Ohio for a rare home game for the Lake Catholic Cougars. They're hosting the Erie Royals at 1pm at their field behind their high school. A part of the Home Days event at the school. #27 @PaFootballNews #BeyondTheKeystone @royals_erie @LCCougarsAD @JoeEitel pic.twitter.com/qq5tddMhyE

— Sykotyk (@Sykotyk) September 10, 2022
#27 – Mentor Lake Catholic v. Erie
Lake Catholic v. Erie at Lake Catholic Field in Mentor, Ohio. #27 @PaFootballNews #BeyondTheKeystone @royals_erie @LCCougarsAD @JoeEitel pic.twitter.com/yOJxO3ZRRc

— Sykotyk (@Sykotyk) September 10, 2022
This game was unique in that it for was for "Home Days" at Lake Catholic. Rather than playing at JT Osborne Stadium at Mentor High School. This game was being played at the small field behind the school. Though I was unable at the time to find out its name. I've learned that it's at least called Tom Ward Field, which is the name of their first coach. So, that's good enough for me.
I wanted to arrive early in the off chance that parking might be limited. That was not the case. Though the tiny stands were overflowing and many more were situated on the hillside under tents to the east. They also had track tickets, which alotted space along the track for folding chairs for their fans. The scoreboard was obscured by the tents setup, though I saw that the Ball On, down and distance weren't being used anyway. Just the score, time, and quarter.
So, many of my yardages are eyeballed, and not official. It didn't matter though, as the overwhelming fact that Erie was in trouble. The team fell apart as Lake Catholic's methodical offense churned out touchdowns. Two each quarter in the first half. One more each in the second half. The only thing was the field was hot, and retained the heat thanks to the sheen of black rubber pellets laying atop the turf in swarms. The practice field had seen better days. And with the score 34-6, Lake Catholic didn't opt for two. Leaving just a 29-point margin and the running clock maddeningly out of reach. But, they'd score again and finally put this one away, 42-6.
Lake Catholic 42, Erie 6 – Final #27 @PaFootballNews #BeyondTheKeystone @royals_erie @LCCougarFB @JoeEitel pic.twitter.com/OCCkNu5wve

— Sykotyk (@Sykotyk) September 10, 2022
After the game, I had a lot of time to get to my night game in Erie. A lot of time. So, with my feet sweltering from the field, I was going to take a dip in the lake. Or so I thought. I headed out on OH2 to US20 and stopped at the first Sheetz when I saw gas was $3.039. And got a couple of hot dogs as well. After that, I wasn't that hungry, so wading into the lake sounded fine. And I knew the perfect spot. My favorite spot. But it was gated off. I would learn, because of a festival in Conneaut. So, my stop at Dollar General to buy a towel was in vain. But I did get a gallon of sweet tea and then stopped for a cup of ice at a gas station. I then meandered along US20 into PA, and got onto I-90 from the 6N cutoff. And hit a long string of construction related traffic.
I got into town via Peach St, and followed that north toward the zoo. And then east to Mercyhurst Prep. I had planned to be at a game here last year. But, that was the fateful day my engine in my old car decided it had had enough. I stopped at Arby's for a turkey bacon ranch sandwich and another refill of ice for my tea. Then over to the school and found a parking spot on the second row from the north entrance. And waiting closer to kickoff to go in.
Tonight I'm at Tullio Field on the campus of Mercyhurst University for a game between the Mercyhurst Prep Lakers and the Seneca Bobcats. Kickoff set for 7pm. #28 @PaFootballNews @BobcatsSHS @mpslakers pic.twitter.com/cXz3cQFySm

— Sykotyk (@Sykotyk) September 10, 2022
#28 – Mercyhurst Prep v. Seneca
Mercyhurst Prep v. Seneca at Saxon Stadium in Erie, PA. #28 @PaFootballNews @mpslakers @BobcatsSHS @D10FootballHub @ydlsportsnet pic.twitter.com/7XSKA1bacU

— Sykotyk (@Sykotyk) September 10, 2022
Now, I had only known of this field as Tullio Field. Same name as the old arena in town before its renovation (now Erie Insurance Arena). So, I was a bit shocked to see it christened as Saxon Stadium in several prominent locations. It turns out, in 2019, it was part of the renovation that got NCAA approved lighting on the field for night games. So, learn something new.
And another note is that both schools have Erie zip codes. Though Wattsburg is the name of the school district, the high school is situated about halfway between Wattsburg and Erie proper. And hence has an Erie address. Mercyhurst Prep is the prep school of big brother Mercyhurst University. A Division II level school athletically.
This game was a fun one. The underdog Seneca Bobcats opened with a touchdown, and a two-point conversion after an assist from a penalty moving the ball closer by half. And then another score, to make it 15-0. But Mercyhurst Prep would make a comeback. Two touchdowns, but both with a single extra point. Trailing 15-14. Seneca would score once more, on a beautiful pass play.
Colin Libra hauls in this 14 yard TD pass. Penalty after the play. 18 yard two point run try is no good. Seneca leads Mercyhurst Prep, 21-14 with 7:05 left in game. @PaFootballNews @BobcatsSHS @mpslakers @D10FootballHub pic.twitter.com/c9stxhgwRA

— Sykotyk (@Sykotyk) September 11, 2022
But, they'd fail to score on the PAT, and leave a 7-point gap between them and the resurgent Lakers. And they'd come back. With 5:30 left, Mercyhurst Prep would score to tie it, 21-21. A series of possession changes late in the game, highlighted by Seneca's interception return setting up a great opportunity went without points. And the game went to overtime.
Mercyhurst Prep would get the ball and score first on a one yard push up the middle. The PAT putting them up by 7. Seneca would score on the first play of their possession. But the two point attempt was discombobulated and Seneca would fall, 28-27 in one overtime.
Mercyhurst Prep 28, Seneca 27 – Final/OT #28 @PaFootballNews @BobcatsSHS @mpslakers @D10FootballHub pic.twitter.com/HwQZzf8OYo

— Sykotyk (@Sykotyk) September 11, 2022
After that, was a long two hour drive home. With a stop at my parents along the way.
PHOTOS OF THE WEEK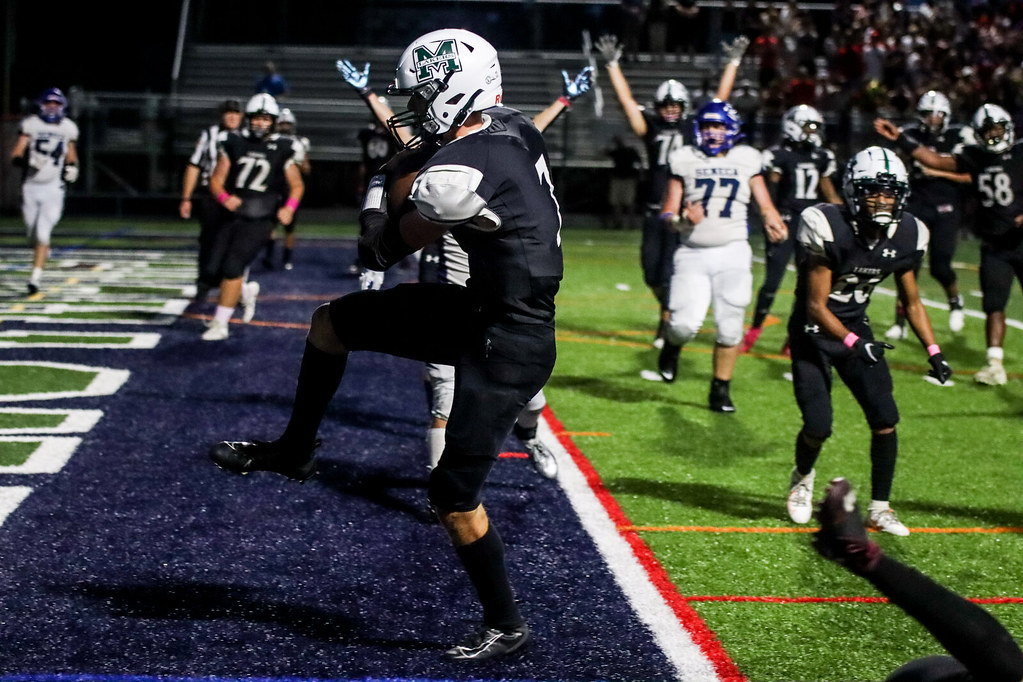 SUMMARY
For the weekend, I drove 740 miles for the four games. Though food was cheap, at only $43.25 as I was mostly at home. Nothing extravagant on the road. Gas was $74.43, though I averaged over 40mpg. I just didn't start with a full tank and didn't feel like calculating it as much was carryover from last weekend.
Next Week
If all goes as planned, I'll be in the Land of Enchantment. Games to be announced.
2022 Statistics
28 Games
55 Teams
13 Stadiums
5 States
27 New Teams
9 New Stadiums
1,424 different teams
452 different stadiums
1,301 total games
For more, and larger, photos from this weekend, click HERE.
For photos from previous weeks and seasons, visit http://www.flickr.com/sykotyk/sets/